Hell's Kitchen Slot Review 2022
Millions of viewers are riveted to the screen when the new season of Gordon Ramsay's Hell's Kitchen is released. The on-air passion, exciting competition between the best chefs and charismatic hosts, will leave no one indifferent.
Global provider NetEnt has picked up the trend and created an exciting Hell's Kitchen™ slot. Review our experts to detail all of the slot machine's features.
Contents
Short description and Experience
The latest Hell's Kitchen™ New Zealand slot machine entered the online casino lineup in March 2022.
The manufacturer of the slot is a world-renowned developer of entertainment for online gambling company NetEnt. Its machines have won indisputable popularity among customers in the gaming rooms. Read more about the development provider for online platforms can be SkyCity online casino review.
NetEnt picked up the theme of culinary shows and gave Hell's Kitchen™ casinos to attract players who love gourmet food. The slot symbols represent Gordon Ramsay's most famous dishes in vivid gameplay.
The game offers bonus spins, high multipliers for winning combinations and exciting graphics. In addition, you will hear some of Ramsay's sharpest phrases as an atmospheric accompaniment.
The gameplay will be understandable even to those who have never joined Hell's Kitchen™ before. Play is fun, challenging and lucrative.
Symbol Design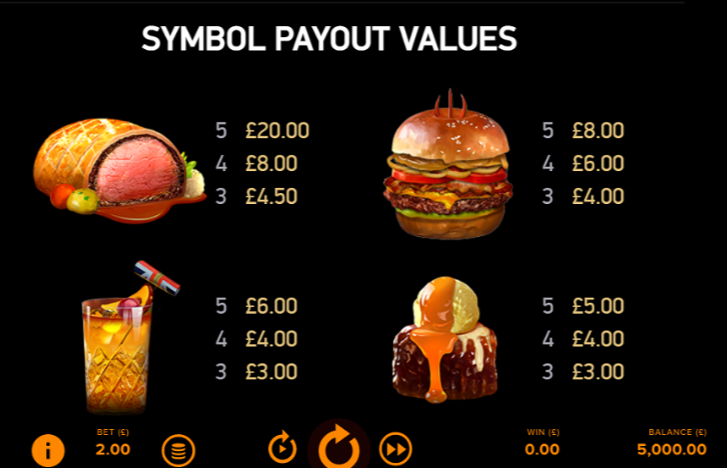 In Hell's Kitchen™, NetEnt has incorporated several symbols, each with its meaning.
Card symbols are traditionally present in slots and allow you to rock the game and get a small reward. For example, in Hell's Kitchen, Jack, Queen, King and Ace for a roll of 3 to 5 of the same symbol will give the player between 0.7 and 3 credits. These are small values, but they will diversify the gameplay.
Thematic symbols have higher values:
Sticky Toffee Pudding — for 3, 4 and 5 simultaneous hits will bring 3,4 and 5 credits;
Fruity Cocktail — 3 to 6 credits;
Spicy Burger — 3 symbols will bring 4 credits, 4 will carry 6 credits, and 5 burgers in a line will obtain 8 credits;
Beef Wellington — Gordon Ramsay's iconic dish and the most expensive symbol. You'll get 4,5, 8 and 20 credits for 3, 4 and 5 signs in a line.
If you hit a card or special symbol, the winnings are calculated as follows: the amount you wagered on a spin is multiplied by the corresponding number of credits received.
If you wager $1 and 5 Beef Wellington symbols appear on the reels, you get 1×20 = $20.
Special symbols:
The Hell's Kitchen show logo is a wild symbol that substitutes all symbols except the scatter. This way, you'll pick up a winning combination faster;
Gordon Ramsay's portrait is the scatter which triggers the bonus game.
At Hell's Kitchen™ casino, there are plenty of winnings options available to you. The Hell's Kitchen™ jackpot available at maximum bet is the bet amount x 1,000.
Your Betting Options at Hell's Kitchen™ Video Slot
The Hell's Kitchen™ is a 5 reel, 3 payline slot. The machine has 20 paylines. You need to get 3 to 5 of these symbols in a single line from left to right to win.
You can get a closer look at the paylines in the slot infobox. Let us point out that they have different configurations: horizontal in one of the 3 rows, V and W, checkerboard on 2 or 3 rows.
You can choose the number of lines connected and vary the bet amount per spin.
In the game, there are payment in-game coins. You set their value. The minimum bet is $0.2; the maximum is $400. With optimum betting, you can win up to $234,000.
Bonus spins give a nice multiplier to winnings without having to wager money.
Hell's Kitchen™ Video Slot Exciting Gameplay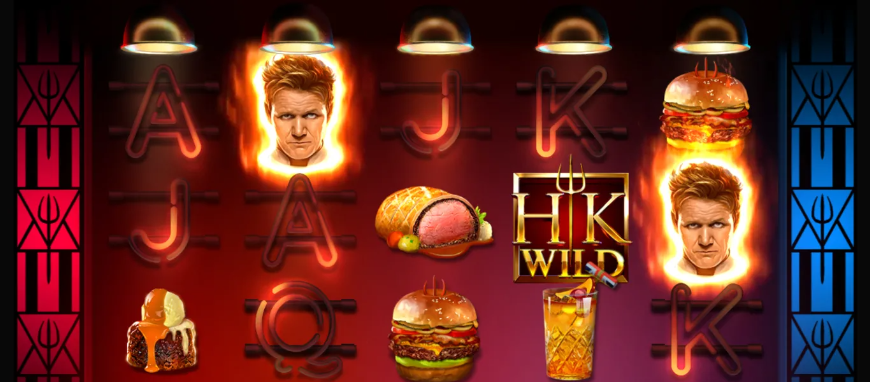 Thanks to the quality graphics for which NetEnt's online pokies are known, Hell's Kitchen™ gameplay is unforgettable.
The game is darkly coloured and tastefully backlit, and the food is mouth-watering.
Reel speed is high, and the stylish interface allows you to make quick changes to your bet, track your bankroll and catch bonus spins.
Bonus and Unique Features of Hell's Kitchen™ Video Slot
One feature that all Hell's Kitchen™ winners have noted is the variety of Bonus features in the slot.
Ramsay's Wilds is a bonus round that is activated randomly. A furious Ramsay appears in the draw and throws knives and plates at the reels, thus fixing them. In this way, you can get between 5 and 7 wild symbols, which will make it easier to put together a winning combination.
Team Challenges are the free spins you get if you collect 3 to 5 scatters. These symbols appear on reels 1,2, 4 and 5.
The draw uses 2 sets of reels: one for the red team and one for the blue team, acting in a real show. You get 10 or 15 free spins for one of the teams.
Free Spins trigger the Order Up feature. It contains 2 multipliers (x2 and x3) as well as Team Wilds — this feature can add 3-8 wilds to a line. If you get both x2 and x3 multipliers, they are multiplied, so your multiplier for betting is x5.
Gordon's Bonus Game feature is another bonus game. If you pick the winning team in Team Challenge, you get 15 menus with different multipliers and quick prizes. You can open the menus until you reach three x's. Then, the bonus round is over.
The Hell's Kitchen™ bonuses make spins truly lucrative and exciting.
How to play Hell's Kitchen™ Video Slot
This slot machine's gameplay is as simple as it gets, but it takes a little bit of preparation:
First, log in to the verified casino website and select a slot in the lobby.
Start the demo version if you've never played Hell's Kitchen™ before. The demo version doesn't require any monetary bets, and you can safely learn the rules and features of the gameplay.
Deposit the game account and start playing for real money.
Select the number of lines and the denomination of game coins. Then, keep an eye on your bankroll. Experts recommend starting with the minimum stakes and raising them after the first wins.
Start the spin or use the auto spin button.
To win with confidence and save your bankroll, look for bonus icons and participate in free-spin draws.
Since Hell's Kitchen™ RTP is just above average, at 96.07%, and medium-low volatility, you will need to make a lot of preliminary bets before you win.
Be prepared for some expense and focus on finding the highest paying symbols.
Hell's Kitchen™ Video Slot On Mobile
Since NetEnt uses HTML5 technology, Hell's Kitchen™ mobile is available to all New Zealand players. You can use your iOS or Android smartphone or tablet to play even without access to a computer.
No additional software is required. You simply use your mobile browser to download the casino site, choose Hell's Kitchen™ in the lobby and start playing.
All the features and bonus spins will remain intact. You can also play the free demo version.
Summary
Hell's Kitchen™ is NetEnt's stylish signature slot released to support Hell's Kitchen's reality TV show. In the slot, you can immerse yourself in the atmosphere of a gambling competition between the blue and red team led by chef Gordon Ramsay.
The game features food symbols (Sticky Toffee Pudding, Fruity Cocktail, Spicy Burger and Beef Wellington) and a scatter and a wild, which will replace a missing character in a winning combination and trigger one of the bonus draws.
The game has a relatively low RTP of 96.07%, but winnings can be increased thousands of times the bet amount.
Hell's Kitchen™ is the way to explore the world of haute cuisine, have fun with bonus rounds and win.
FAQ
What is the RTP of Hell's Kitchen™ Video Slot?
Hell's Kitchen™ RTP is 96.07%.
Where can I play Hell's Kitchen™ Video Slot for real money?
You'll be able to play the slot at any verified casino that makes NetEnt machines available to New Zealand players.
What are the minimum and maximum bets in Hell's Kitchen™ Video Slot?
The betting range is from $0.2 to $400.
How to win at Hell's Kitchen™ Video Slot?
Get to know the paylines in the demo version. Start with small bets. Choose the maximum number of lines. Be sure to use the bonus features. Finally, focus on combinations with top multipliers.
Is Hell's Kitchen™ Video Slot safe?
All NetEnt slots are safe and certified random number generator quality from independent laboratories.