Wheel of Wishes Slot Review 2023
Microgaming isn't resting on its laurels as a cutting-edge online gambling provider, partnering with various creative teams to bring new products to market. In 2020, Wheel of Wishes Slot was released with Alchemy Gaming as a partner.
Contents
Short description and Experience
If you like oriental Arabic themes, Aladdin's adventures and mythical genies, you'll love Wheel of Wishes. Slot reviews will show you what the payline looks like and which symbols Microgaming and Alchemy Gaming have chosen.
If you're in any doubt about choosing Wheel of Wishes casinos, we've got in-depth coverage on the best gaming platforms, like Rizk Casino review.
The slot machine offers 10 paylines and a small number of combinations, but it's attractive because of its progressive jackpot, which reaches $2,000,000.
As always, with Microgaming, you'll find incredible graphics, multiple bonus offers, intense gameplay, and a lot of fun waiting to win.
Symbol Designation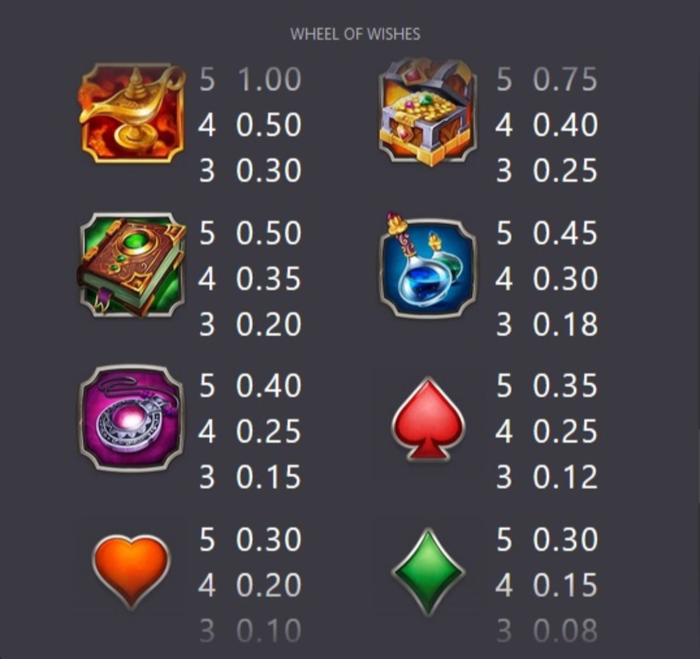 When we think of Arabian countries, we think of deserts and fairy tales like Scheherazade. Wheel of Wishes New Zealand is all about that mysterious Oriental ambience.
There are 2 groups of symbols:
Symbols with minimum multipliers – the signs of card suits and the pink circle. For a combination of 3, 4 or 5 characters, you win by multiplying your stake by x0.5 to x3.5.
Theme symbols – amulet (multiplier 3 symbols – x1.5, 4 – x2.5, 5 – x4), vials of potions (x1.8 / x3 / x4.5), the secret book (x2 / x3.5 / x5), the chest of coins (x2.5 / x4 / x7.5), oriental oil lamp (x3 / x5 / x10).
The Wild symbol in the game is marked with the word "wild", so it's impossible to miss it. This symbol will help you get your combinations together faster because it replaces every other symbol except the scatter. In addition, the wild has multipliers and increases your winnings with multipliers of x4 / x8 and x50.
The scatter in the game is responsible for starting the bonus round. It looks like a wheel of luck and is activated when 3 to 5 symbols appear on the reels. The scatter gives multipliers of x5 / x50 / x500.
Wheel of Wishes winners do not consider the set of symbols to be limited. You can get great scatter and wild multipliers on each line you choose, as well as earn extra cash or the Wheel of Wishes jackpot in bonus games.
Your Betting Options at Wheel of Wishes
Online casinos give players ample opportunity to win Microgaming jackpots. However, the game itself has limited wager sizes and paylines.
At Wheel of Wishes, playing for real money is as easy as possible with just 5 reels, 3 rows and 10 paylines. As a result, your minimum bet will be only $0, 1, and the maximum is $25.
The paylines are horizontal on one of the 3 rows, v-row and diagonal. You can choose one or more lines. The order in which winning combinations are formed is left to right from the first reel.
The game has two modes. You can play according to the classic scheme (Default) or choose Power Mode. This option in the Wheel of Wishes casino will allow ten times your bet to increase your chances of triggering bonus draws.
We recommend that you explore the details of the payout table and potential game modes in demo mode. That way, you don't risk any real money, and you can figure out exactly which strategy is right for you before you bet all or part of your bankroll.
Wheel of Wishes Exciting Gameplay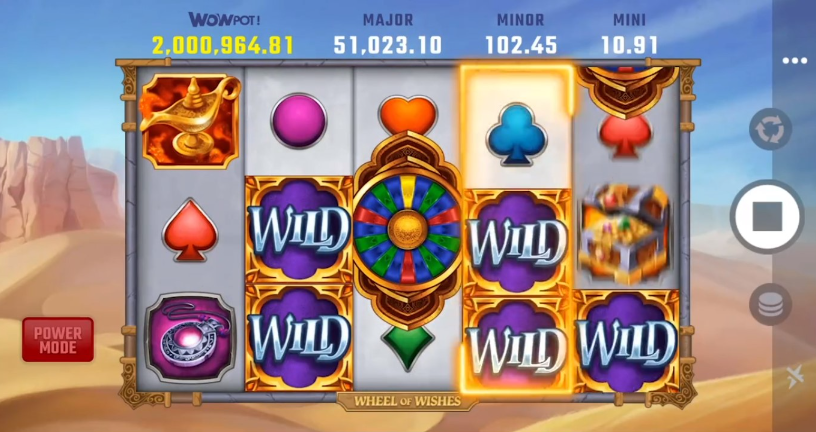 Set against the desolate sands of the Arabian Peninsula, you'll find all the trappings of Oriental culture like a genie lamp, potions and Oriental manuscripts. Great graphics and music Microgaming add pluses and a great mood to the gameplay.
The control panel is elementary. On the right side of the playing field, you will find all the necessary buttons:
coins to form the bet;
Number of active lines;
the button starts spinning;
The power mode button is red and is located on the left.
Even a newcomer to the online casino will quickly master the slot control system and vary the game modes and bet size according to your strategy.
With quality music, don't deny yourself the atmosphere – you'll be able to fully immerse yourself in the secrets of the East and enjoy your future winnings.
Bonus and Unique Features of Wheel of Wishes
The best part about Wheel of Wishes is the bonus game. These games are where you hit the jackpot and multiply your winnings.
The Wheel of Fortune scatter will trigger the bonus game on a roll of 3 to 5 symbols. 2 scatters will trigger the Power Spin mode. Next, you spin the reel; if it stops on a wheel symbol, you get a chance to compete for the jackpot. As with several other Microgaming online pokies, there are several progressive jackpots:
Mini – at $10.
Minor – at $100
Major – at $50,000
WowPot Jackpot – at $2,000,000.
Of course, the odds of such big winnings don't come around very often, but today some players have made thousands of dollars off their hands while playing Wheel of Wishes.
How to play Wheel of Wishes
Your winning streak at Wheel of Wishes begins with your registration at a verified and licensed casino. Then, fill out a simple form, verify your contacts and fund your account the way you want. After that, freely select Oriental Adventures in the lobby and start the game.
In the control panel on the right, you will be able to:
select the amount bet per spin;
set the number of lines;
a lightning symbol will help speed up the reels;
autoplay spins (you set the number yourself).
details of the payout table can be seen in the information box.
Our experts draw your attention to the Wheel of Wishes RTP. It is one of the lowest allowed limits – only 93.34%. It drops even further if you plug in Power Spin. However, that doesn't stop players from looking to win the jackpot. The chances of winning over $2 million are inspiring, but we insist – control your bankroll and treat the game as an enjoyable pastime.
Wheel of Wishes On Mobile
HTML5 technology, which all Microgaming slots support, lets you play Wheel of Wishes mobile 24/7 in any location with an internet connection.
The slot itself adapts to your gadget's operating system and works seamlessly with iOS or Android products.
A quick mobile browser connection lets you log in to your favourite casino, log in to the lobby and choose Wheel of Wishes to spin for your perfect jackpot.
Summary
Wheel of Wishes is the new slot from the creative tandem of Microgaming and Alchemy Gaming.
With 5 reels, 3 rows and 10 paylines, the slot machine is known for its jackpots, which today will win you anywhere from $10 to $2,000,000. The slot has an oriental theme, with lamp symbols, magic potions, mysterious books and, of course, wagons and scatters in the background of the desert landscape.
You can play on minimum limits or increase your bet in Power mode.
The game is perfect for beginners with a modest bankroll but big gambling ambitions.
FAQ
What is the RTP of Wheel of Wishes?
The RTP is low in today's industry, with a mere 93.34%.
Where can I play Wheel of Wishes for real money?
Pick any casino from our top-rated and most trusted gambling rooms for New Zealanders and play for real money with guaranteed quick and easy withdrawals.
What are the minimum and maximum bets in Wheel of Wishes?
You'll be able to wager between $0.1 and $15.
How to win at Wheel of Wishes?
Hit the bonus round with 3 or more scatters. It's the best opportunity to win the jackpot. Be prepared for a low RTP, do not place large bets before your first win. Use all your betting lines.
Is Wheel of Wishes safe?
All Microgaming slots, including Wheel of Wishes, have been independently tested and certified for fairness by our independent laboratories. So choose a casino licensed and play Wheel of Wishes safe.